Westley has always been a happy, goofy dog.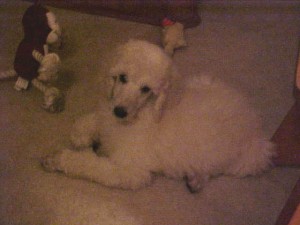 Just after coming home, he proved he could charm everyone he met.  He also began demonstrating his skills in squeaky-ectomies.  The poor monkey survived several amputations, decapitations, and eviscerations before it was eventually retired.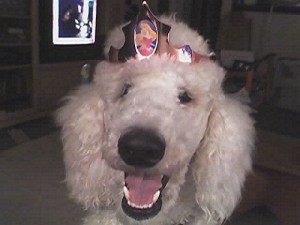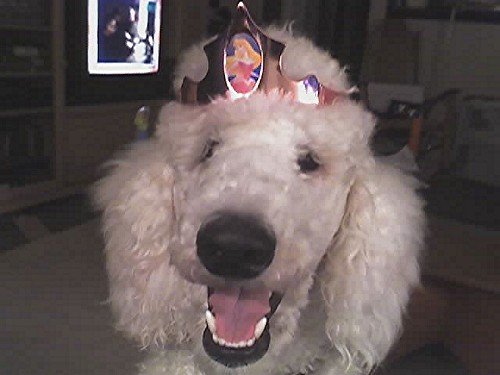 He puts up with a lot from me. Like testing out Happy Meal toys on him.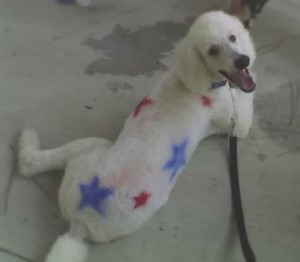 We participated in a 4th of July contest. He was very pleased to be getting so much attention. Spray hair color and stencil cut outs make for a very colorful poodle. It also washes right out.
So, from the happy, grinning goof-ball, he slowly descended into hurting and depression. It was painful for me to even watch, but I didn't know what to do, and the vets just didn't seem to want to keep looking for something they thought they'd solved.
I don't want to add any sad poodle pictures. I'll skip ahead…
Eventually we took the jump, and scheduled the amputation surgery. It was so helpful to me to read on other blogs and the forums that "two weeks of hell" were typical, and we were prepared for it, but we only got one before he was finally, finally back to his happy self.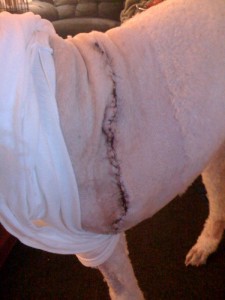 A week after surgery, the site is looking better. Swelling is down. No more nasty bulge of fluid shifting around. And true to poodle form, the hair is growing back quickly.
Unfortunately for his vanity, (and ask any poodle owner, they are very vain), while I might be able to even out some of the hair-do from the surgical site shaving, the mess of shaved patches on the legs is just going to have to grow before it'll look normal again. Not the best way to parade down the aisle, but better to hop happily with a post-surgical 'do, than limp in pain!